Vitals
Locale: Squamish, British Columbia
What It's Like: One of the world's most sought after big waterfalls, and one of the whitewater crown jewels of the Sea to Sky.
Class: V
Scouting/Portaging: Easy access for scouting. Park and huck.
Level: No gauge available.
Time: A few hours.
When To Go: Peak snowmelt or after rain. Flow is negatively impacted by a power project and needs high water to be possible.
Info From: January 2019.
Other Beta: None.
Map: Click here for a map of the river zone.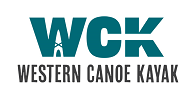 Description
Access to Mamquam Falls is under direct threat by the proposed development of a tourist attraction that plans to create an elevated walkway through the canyon and above the falls. It is possible that physical access could be blocked by the walkway, and liability concerns might prevent paddlers from accessing the river across the development's tenure. Considering just how unique Mamquam Falls is as a large, runnable waterfall (a global rarity), the large negative cumulative effect that development (in particular IPPs) has had on access and flow for rivers in British Columbia and the fact that the Mamquam is already severely impacted by dewatering for a power project, any additional development that will further restrict the ability to run this waterfall is not a preferred outcome.
Mamquam Falls is a waterfall located on the Mamquam River, just outside of Squamish. Renowned for its large size, runnability and pleasing aesthetic, Mamquam Falls is only one of a few waterfalls in the world that is sought out year after year by cutting edge international athletes to test their mettle, and it is a major draw attracting paddlers to the Sea to Sky zone. Also well known to local kayakers looking to push their limits, Mamquam Falls is an incredible river feature that must be seen to believe, even if you just scout it out and set safety for your friends.
The falls is located on the Mamquam River on the south side of Squamish. You can get there by following the Mamquam FSR (off highway 99) for about 3 km, driving along under the Chief. At a large intersection, turn left down Powerhouse Road and follow until you reach a gate. The gate may or may not be open, but it's only another 100 m to a bridge over the Mamquam. To minimize the risk of getting locked in it might be best to park on the outside of the gate even if it is open. The falls is directly under the bridge. Access is obvious, but please be aware the power company (there is a generating station for an IPP at the base of the falls) do not want you trespassing on their property.
Flow on the Mamquam is a problem due to the fact that it is dewatered for a power project. It's too low to run unless water is spilling over the dam upstream, which is usually during times of peak snowmelt in early summer and after rains all year. As the safe window for navigation is relatively small, it's hard to time the flow window correctly because the flow is often rising or falling quickly. On top of that, there's no online gauge so you'll just have to go look at it to know when it's good.
Mamquam Falls is about 60-70 feet tall, a big but not unreasonably large size. Aside from the dangers associated with running any big waterfall, the main issue with Mamquam is a dangerous cave in the pool on river right. Just scout carefully and set safety, and all will be good. If you're there to run Mamquam Falls proper, it's also worth your while to wander a few hundred meters upstream when you put on. You'll find and often overlooked but awesome 20-30 foot waterfall there as a warm up. Enjoy - this is a pretty special place!
Taking it all in at the lip of Mamquam Falls. Photo by Nick Gottlieb.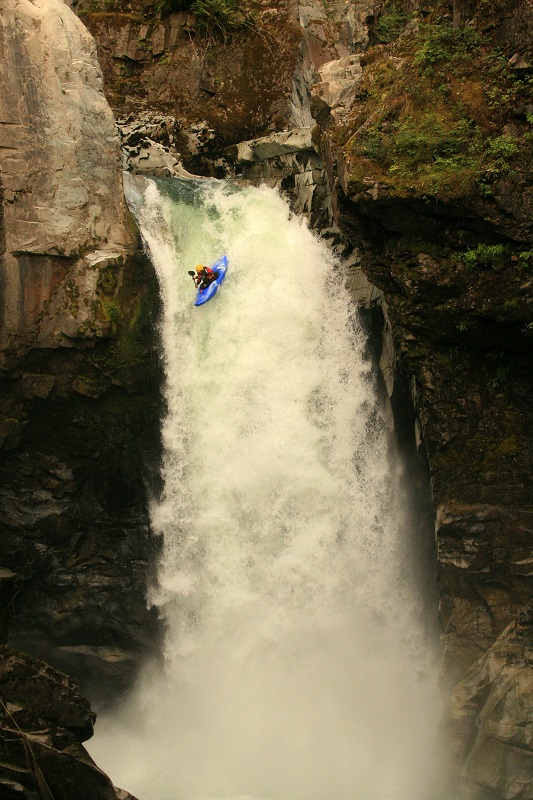 Over the falls. Photo by Maxi Kniewasser.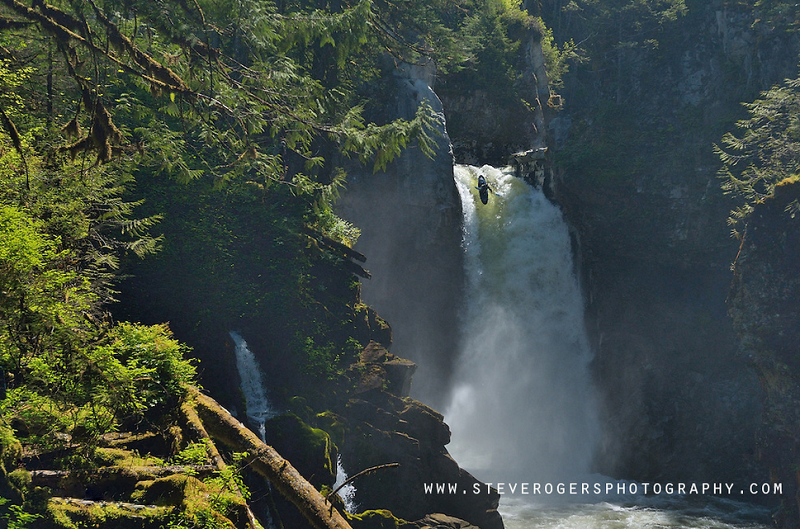 Mamquam Falls, full glory photo. Photo by Steve Rogers.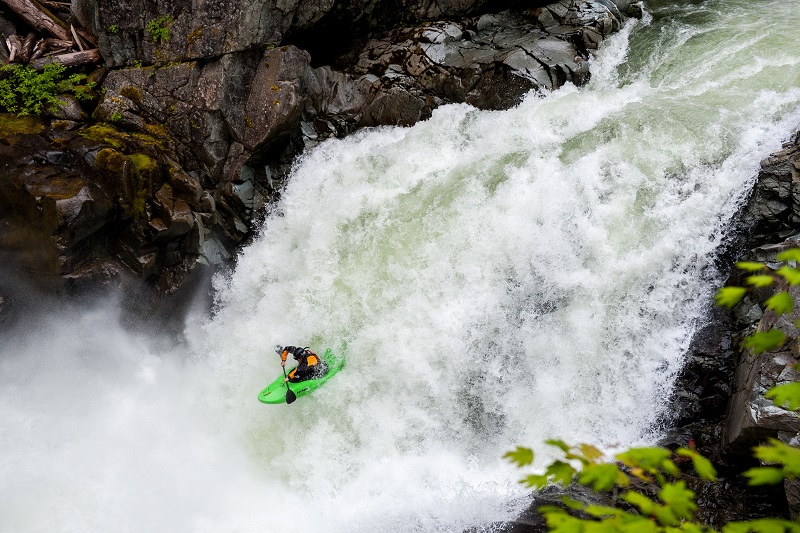 The sometimes overlooked waterfall just upstream of Mamquam Falls itself. Another classic. Photo by Maxi Kniewasser.
Mamquam Trivia
The first descent of Mamquam Falls was some time in the 1990's.
Updated February 14, 2019