Callaghan Creek Race
July 2014, date TBD
The fifth annual Callaghan Race will be happening in July 2014. Building on the huge success of last year (50+ participants in both races down the Callaghan and Cheakamus!), this should be the biggest year yet. We are anxiously waiting to see how much snow will fall this winter to decide on the specific date of the race. Keep your fingers crossed for heavy snows because there isn't much out there yet. Keep your eyes on this page for more details on the race, the party and all the other things going on that weekend.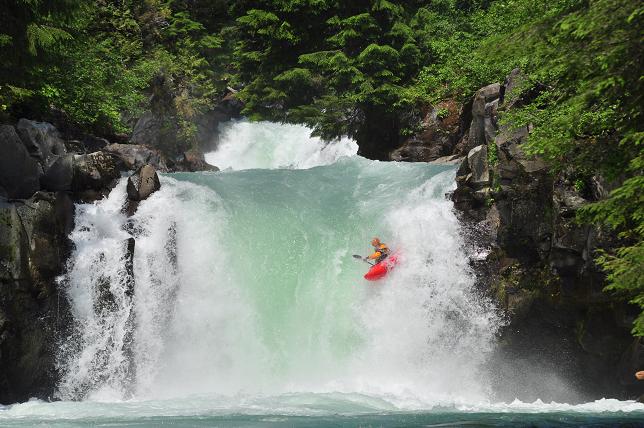 For some information about previous races, click this link.
General Information
The Callaghan Creek Race is a 2 man team, timed race down the full length of Callaghan Creek in Whistler, BC. To read more about the river, see some photos or to email questions/intent to race to the organizers please see the following links:
The Race
The race is a 2 man team race.
The race starts at 5pm - you are responsible for showing up at the start line at this time.
Registration is the day of the race - sign up between 11am-3pm at the take out parking lot.
Competitors must attend a pre-race meeting at 3:30pm.
Boats are limited to modern creek boats.
Prior experience on the Callaghan is absolutely mandatory. We can refuse entry into the race at our discretion.
All competitors must have personal safety gear on hand at the race - throw rope, float bags, pin kit etc. are mandatory.
In the event of unsafe water levels on the course, the race will be moved to the Upper Cheak at the organizers discretion.
Volunteers
Volunteers are always appreciated to help with all aspects of the race.
Time keepers at the put in and take out are needed.
Anyone comfortable paddling the Callaghan is welcome to set safety along the course.
Please sign up between 11am-3pm, or contact us beforehand if you would like to help out.
Spectators
The Callaghan waterfalls are accessible to spectators via a moderately strenuous trail leaving from the road to the old put in. Access to the old put in was closed in late 2012.
It takes about 40-60 minutes to hike in to the waterfalls - the most exciting portion of the course.
Give yourself at least 90 minutes before the race starts to reach the river - you don't want to miss the action.
Camping/Party
Camping is available at the take out (Cal-Cheak Campsite) for $10/car/night.
New in 2013, the after party will be held at 'the cabin' - a beautiful property on Nita Lake in Creekside.
The awards will be awarded at the after party some time in the evening after everyone has a chance to regroup.
The guys who live at the cabin are generously letting us have the party there - treat the place with some respect!
Updated Dec 17, 2013